Registration is now open for the OTHTC Ultra and 30K. Click on the Ultra Home tab above for more on the ultra and to register.
Welcome to the Over-The-Hill Track Club Website. We are a recreational club serving Ridgecrest, California and the Indian Wells Valley. Here in the high Mojave desert, we enjoy a year-round monthly schedule of races, other sponsored activities and charity drives. All events are open to the public. Contact us using one of our links below if you are interested in participating in our events or would like more information. We are most known for the "High Desert 50k Ultra and 30k" that we host the first weekend in December. Friend us at Over the Hill Track Club (OTHTC) on Facebook . Click Here for an application and info on joinimg the OTHTC.
- Next Club/Local Events-
----------------------------------------------------------------------------------------------------------

OTHTC Annual Turkey Trot 5K
Thursday, November 26 (Thanksgiving Day)
Registration: 7:30 am, Race Start: 8:30 am
At the Cerro Coso Community College Gym Parking Lot (New Start and Finish Location)
$5 Donations Suggested, No Race Fee
Come on Out and Start Your Thanksgiving Right...Run before your feast! Work off that Turkey dinner before you eat.
Raffle Prizes at the end of the event around 9:45 am. Must be present to win. Same as last year with many great prizes.
All proceeds to benefit Murray Middle School Athletic Programs
Who will win the Rubber Chickens? To Top Male and Female Runner
Race Director: Cross Country Coach Anthony Barnes
------------------------------------------------------------------------------------------------------------------------------------------------------------------------
-OTHTC Race News-
-------------------------------------------------------------------------------------------------------------------------------------------------------------------------

2015 KO Trail Half Marathon
November 7th, 2015
Ridgecrest, CA

37 runners and walkers showed up at the chilly start of the annual KO Half Marathon. After sunrise things warmed up as evidenced by the outer clothing dropped at the first aid station at about the 2 1/2 mile mark. The first place male runner was Gregory Ostrum finishing the challenging, approximate 13 mile course in 1:34:05. The first female runner to cross the finish line was Karin Usko completing the course in 1:59:59. The first walkers were Randy Klassen and Melissa Parkinson finishing together with a time of 3:03:06. Ruby Dison earned the coveted "DFL" award for persevering to the finish. Thanks to Terry and Andrew Mitchell, Corky Furnish, John Anderson, and Chris Rios for manning the aid stations. Thanks to Mark McKinney for helping mark the course and to Dawn and Mike Petrovitch for taking down the ribbon.

2015 KO Half Marathon Results

Place
Name

Time

Age

Gender

1
Gregory Ostrum (1st Male)

1:34:05

20

M

2
Brent Cornelius

1:38:57

33

M

3
Mark McKinney

1:42:39

47

M

4
Bernie Mondragon

1:49:49

25

M

5
Chris Hutmacker

1:50:05

29

M

6
Jonah Matsunaga

1:55:16

16

M

7
Brian Hildreth

1:56:51

45

M

8
Matthew Johnson

1:57:52

25

M

9
John Auburn

1:58:40

50

M

10
Anthony Lara

1:58:55

16

M

11
Karin Usko (1st Female)

1:59:59

48

F

12
Brendon Munis

2:01:51

32

M

13
Garry Tame

2:03:18

54

M

14
Julia Ernst

2:07:27

16

F

15
Rebecca Williams

2:07:27

17

F

16
Emma Heflin

2:09:40

16

F

17
Beverly Wood

2:23:17

20

F

18
Edgar Ponce

2:23:27

29

M

19
Sher Davis

2:29:42

49

F

20
Liberty Lowe

2:29:42

39

F

21
Katherine McLaughlin

2:31:34

36

F

22
Linda Dewees

2:39:04

59

F

23
Mike Petrovitch

2:42:50

45

M

24
Carol Wolfe

2:46:50

55

F

25
Traci McCormick

2:46:51

47

F

26
Kevin McCormick

2:54:42

49

M

27
John Carey

2:55:27

72

M

28
Randy Klassen (1st Male Walker)

3:03:06

62

M

29
Melissa Parkinson (1st Female Walker)

3:03:06

55

F

30
Jo Kajiwara

3:06:00

69

F

31
Ruby Dison

3:09:16

48

F

32
Jenny McLaughlin

DNF

59

F

33
Julie Frisbee

Early Start

43

F

34
Katie Eldridge

Early Start

39

F

35
Jennifer Williams

Early Start

46

F

36
Jason Zehendner

No Time

M

37

Justin Turner

No Time

41

M


Gregory and Karen -first male and female


Melisa Parkenson and Randy Klassen; and Ruby Dison
OTHTC Annual Halloween Candy Dash and 5K
October 31, 2015

Forty five runners and walkers navigated the 5K course with Chris Hutmacher and Julia Ernst finishing first and second overall. Chris finished in a time of 21:32 and Julia in a time of 21:58. The real winners were all the kids who entered the "Candy Dash" where they had so much time to run to the candy pots and carry back as much candy as they could hold. "Dragon Girl" and "Forest Gump" won the best costume competition receiving the Zombie Dogs awards. Race Directors, Jeff and Erin Andries did a great job hosting the event.


Results:
Chris Hutmacher

M
21:32
Julia Ernst
F
21:58
Brian Hildreath
M
22:59
Ben Andrus
M
23:59*
Kurt Schieder
M
24:38:00
Cameron Olives
F
27:12:00
Scotty Broyles
M
40:31**
Jenny Boisvert
F
28:48:00
Sharon Canfill
F
29:38:00
Ty Denney
M
30:26:00
Michael Spahn
M
30:27:00
Calle Lehmann
F

31:09:00
Calvin Fisher
M
31:09:00
Michelle Stravorska

F
34:20:00
Kai (The Wonder Dog)
F
34:20:00
Kelly Winkel
F
37:07:00
Brian Corner
M
39:08:00
Katherine Garcia
F
39:08:00
Megan Koontz
F
40:54:00
Avina Kootz
F
40:54:00
Stefani

Jones
F
43:02:00
Lori Scheider
F
43:02:00
Christina York

F
43:20:00
Liam (Baby)
43:20:00
Nancy Pace
F
45:51:00
Ryder Walden
M
45:51:00
Maddy Walden
F
45:51:00
Kelly Walden
F
46:23:00
Frank Boisvert
M
47:22:00
Grace Boisvert
F
48:27:00
Caleb Boisvert
M
48:29:00
Andy Johnson
M
49:18:00
Heidi Fuller
F
49:28:00
Morgan Fuller
F
49:28:00
San & Jessie Cain
F
50:00*
Christina Deatherage
F
50:50:00
Kathy Martin
F
55:30:00
Carol Wolfe
F
57:33:00
Anna Maria
F
57:33:00
Laren Dunham
F
57:33:00
Faith Lorenz
F
59:02:00
Hope Lorenz
F
59:02:00
Brenden Miller
F
59:02:00
Kristin White
F
1:01:00
Alysa Baker
F
1:01:00
Evan White
M
1:03:00
* Short Course
** Early Start





OTHTC Owens Peak Ultra
October 11, 2015
Ridgecrest, California

It was a great running day for the OTHTC Owens Peak Ultra. There were three races run at the event. Steve Livington and Nchole Giumarra were first place male and female finishers in the 50k Ultra which had 20 finishers. The marathon had 15 finisher and the male and female winners were Ty Hilton and Llindsay Brown. Forty-four runners finished the 10 mile which was won by Tanner Hallihan Barbara Harlow. Complete race results are available by clicking here. The Owens Peak Ultra Facebook page has pictures and some postings by some of the participants.


Over the Hill Track Club Firecracker 4000
July 4, 2015

Seventy-five runners and walkers participate in this year's annual Fire Cracker 4000 Fun Run. The Escobar family travelled all the way from Riverside to run in the event. The first place male runner was 17 year old Christian Shultz with a time of 18:35 and the first place female runners was 16 year old Julia Ernst with a time of 23:51. The first place male walker was Randy Klassen and first place female walker was Debbie Corlett, both finishing the course in 50:33.
Breakfaast Run
June 6, 2015
3-mile run/walk in the hills southeast of Ridgecrest
A total of thirty-eight brave runners and walkers showed up for the Breakfast Run on June 6th. The course started out with a steep, rocky uphill climb and finished coming down the same hill. There were a number of other hills and some soft sand in a couple parts. It was also warm! The top male finisher was Greg Ostrom with a time of 21:55. Connie Scanlan was the first female finisher with a time of 30:39. Thanks to all who came out, and a special thanks to the Escobar family who made the trip from Riverside just for this run and camped out near the trailhead.
Prediction Run
March 21, 2015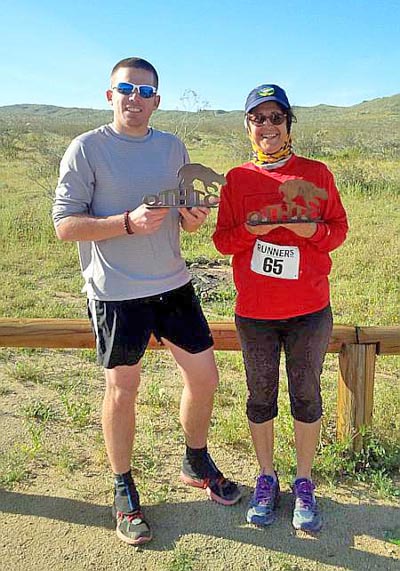 The 4th Annual OTHTC Prediction Training Run was held on March 21, 2015. We had a total of 14 participants. The course was approximately 4.9 miles and participants were required to estimate their finish time, without know anything about the course except the distance. Participants were not allowed to have any timing devices of any kind, i.e., watches, cell phones, GPS, egg timers, sun dials, etc…. Participants were on the honor system. Just prior to race start, participants were given a course briefing and they were off.
For the men, Andrew Smosna finished the course closest to his predicted time. The difference between his finish time and his predicted time was only 44 seconds.
For the women, Jo Kajiwara finished the course closest to her predicted time. The difference between her finish time and her predicted time was 2:52.
It was a beautiful day for running in the hills behind the college. The flowers were still pretty spectacular and the weather was gorgeous. There was only a slight breeze so the temperature was perfect.
Thanks to all the participants and volunteers.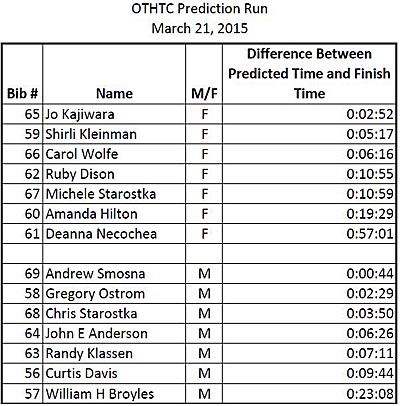 Andrew Mitchell
OTHTC Prediction Training Run Race Director
OTHTC Caballo Blanco Run Free Fat Ass
February 14, 2015
By Race Director Chris Rios
OK here is an attempt at posting the race results of the CBRFFA. Some runners left early and I didn't get their time/loops.
I counted 47 racers, joggers/walkers. Overall winner was Chris Tarzan Clemens from Santa Barbara, Ca. (6 loops 4:54 31). First female was Linda Dewees from Inyokern, Ca. (6 loops 8:03 58). We had two other runners that ran 6 loops, Eric F. Kajiwara and Luis Escobar. 17 runners ran 1 loop. 8 runners ran 2 loops. 1 ran 3 loops. 4 runners ran 4 loops. And we did have some that came and joined in on the fun but we did not get the number of loops they ran.
The ages ran from age 11 to 81. They came from far and wide. From Santa Barbara, Hesperia and Riverside. We raised a bit over $1000.00. Thanks to all who came and Ran Free. Viva Caballo Blanco. See ya next year.
Resolution Run
Jan 1, 2015

A great group of runners, walkers, children and dogs enjoyed an early morning outing. We had 66 participants starting their yearly exercise resolution. The Packrats
2014 OTHTC High Desert 50KUltra and 30K
The OTHTC High Desert 50K Ultra and 30K were run on December 7, 2014 under near perfect conditions. There had been signifecant rainfall a few days before the races leaving the trails and roads in great running condition, and the weather was cool and pleasant -- not cold, no wind, sunny, etc.
Record Crowd for the 2014 OTHTC Turkey Trot
It was a beautiful morning with cool, overcast conditions. There were 507 signed-up participants and along with an unknown number of people who hadn't braved the sign-up line our attendance was a new record, smashing the old one. Over 40 raffle prizes were given out at the end, with some very nice prizes donated by local merchants added to the track club and Burroughs Cross Country Team closet giveaways. Many families of runners and former runners were among those who participated. Gregory Ostrom was the winner of the coveted rubber chicken award on the men's side, winning a close battle at the end, while Julia Ernst won her rubber chicken fairly easily finishing a good distance ahead of the second place female. Thank you to all who donated, participated, and joined in the fun family event.

OTHTC and The Burroughs Cross Country Team would like to say thank you for all the donations for this Thursday's Annual Turkey Trot 5K Family Run. The following businesses made donations for the post race raffle:
Beanster's Expresso
Casa Corona
Casey's Steaks & BBQ
Corny's Shoe Store
Denny's
Pizza Factory
Ridgecrest Cinemas
Also, the OTHTC and Burroughs Cross Country Closets.

Thank you all for helping make this a fun memorable event.





Rubber Chicken Winners Gregory Ostrom and Julia Ernst

The crowd at the signup.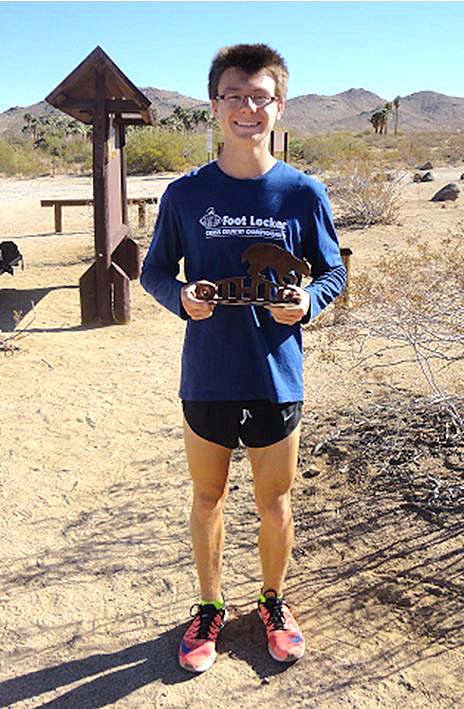 KO Half Marathon
November 8, 2014
Eighteen runners and 4 walkers participated in the 2014 edition of the KO Half Marathon. 16 year old Christian Schultz (left) was the overall winner with a finishing time of 1:32:40 in spite of making a wrong turn and giving the field a mile advantage. The first female runner was Karen Usko (below left) with a finishing time of 2:20:01. The first overall walkers, Patricia Pfahl and Amy Neal (below right) finished in a tie with a time of 4:13:06. Thanks to the aid station volunteers, Terry Mitchell, Joseph Shermer, Racheal Mattinson, Chris Rios and Corky Furnish.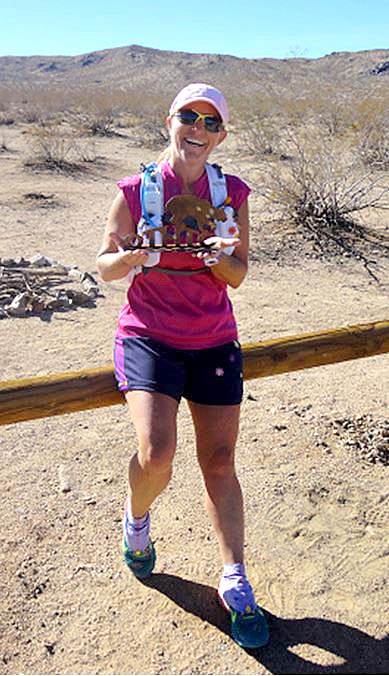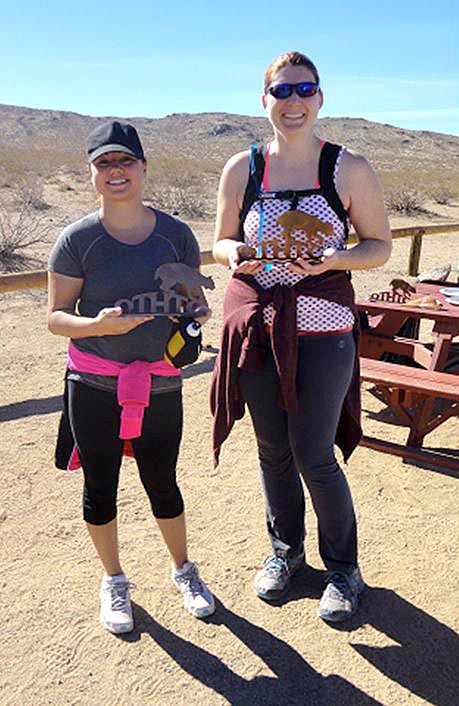 -------------------------------------------------------------------------------------------------------
------------------------------------------------------------------------------------------
OTHTC Prediction Training Run
March 15

Twenty-nine runners came out and had fun at the OTHTC Prediction Training Run to see how close they could come to their predicted time. The course was 4.61 miles long and according to the RD had ONE hill…. RD Andrew Mitchell, thanks Eric Kajiwara for helping mark the course…

The results below lists the runners, their gendr and the difference between their predicted times and their finishing times.

Jeff Andrus
Nick Anderson
Andrew Estabridis
Anthony Barnes
Kris White
John E Anderson
Maryah Marcano
Tom Miller
Annie Ewbank
Eric Laskey
Robert Richards
Christian Schultz
David Aranda
Morgan Fuller
Heidi Fuller

M
M
M
M
M
M
F
M
F
M
M
M
M
F
F

0:00:40
0:00:52
0:00:54
0:00:56
0:00:58
0:00:59
0:01:14
0:01:38
0:01:39
0:01:55
0:02:07
0:02:08
0:02:17
0:04:09
0:04:09

John Auborn
Roy Johanboeke
Cameron Fuller
Josh Boston
Andrew Ostrom
Gregory Ostrom
Dianne Rindt
Mitchell Batzer
Maria Coit
Kenneth Terrado
Annalyn Edulag
Annalisa Szczypiorski
William H Broyles
Chris Rios

M
M
M
M
M
M
F
M
F
M
F
F
M
M

0:04:10
0:04:20
0:04:29
0:06:58
0:07:15
0:08:43
0:09:02
0:09:33
0:10:59
0:12:06
0:14:55
0:14:57
0:18:57
1:35:20

-----------------------------------------------------------------------------------------------------------------------------------
President: Amanda Hilton Vice president: Johnathan Slager Secretary: Treasurer: Maria Coit
Publicity: Eric and Jo Kajiwara Facebook page admin: Amanda Hilton Webmaster: Tom Rindt
OTHTC is a member of the Road Runners Club of America t
President or for more information: OTHTCPresident@gmail.com
Webmaster: webmaster@othtc.com
Over-The-Hill Track Club
Ridgecrest, CA 93555